What does an internship at Villa of Hope look like?
Meet Nandita Ammanamanchi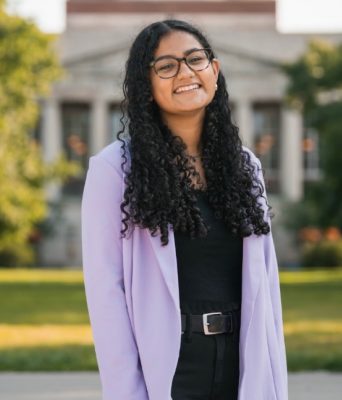 My name is Nandita Ammanamanchi and I have had the chance to intern at the Villa this summer. I am a rising junior at the University of Rochester majoring in Health Behavior and Society with minors in Legal Studies and Clinical Psychology and a concentration in Statistics. Through coursework and a variety of experiences, I have gained significant interest in the intersection between healthcare and policy, with an emphasis on the importance of interpersonal connection and data. I hope to one day pursue a career in Health Consulting and work to better the field of maternal and child health. Outside of schoolwork, I am in an a cappella group, I am a first-year RA on campus and I love to hike and cook.  
This past summer I had the pleasure of working with Jonathan Meagher-Zayas as a Community Engagement and Advocacy Intern, where I had the chance to work on a variety of projects. One of my first projects was furthering the development of the staff Advocacy Group, by creating a Teams page and a more thorough format for the forthcoming meetings. Alongside this I developed in-depth resource guides on Villa's affiliated and membership organizations and on DEIB resources. I have also taken a role in developing the project plan for the Villa to obtain the New York State OASAS LGBTQ Endorsement and in writing a grant proposal to go towards the gender-neutral bathroom at LIFE House. Each week during my internship, I was able to do research on a variety of topics – ranging from nonprofit elected official engagement from to mental health care facility environments – enriching my understanding of the various projects I worked on and the scope of Villa of Hope.
Throughout the past couple of months, I have gained an undeniable amount of experience and knowledge in the public health sphere. To work on a diverse range of projects within an organization with such strong values and focus on employee culture and advocacy has been a true pleasure, and a wonderful step into my professional journey.  
If I had to give one piece of advice to future interns, it would just be to advocate for yourself! Whether you have questions about something, or there's a project you want to work on, don't be afraid to speak up for yourself and your needs. Self-advocacy is going to be the best way to make the most of the experiences presented to you. 
I am so grateful for my time at Villa and can't wait to see the great things the organization will do in the future.