We Will Take Care Of You
That statement of assurance, first spoken by the Sisters of St. Joseph, represents both our history and our mission. It was our undertaking then and it is our promise today.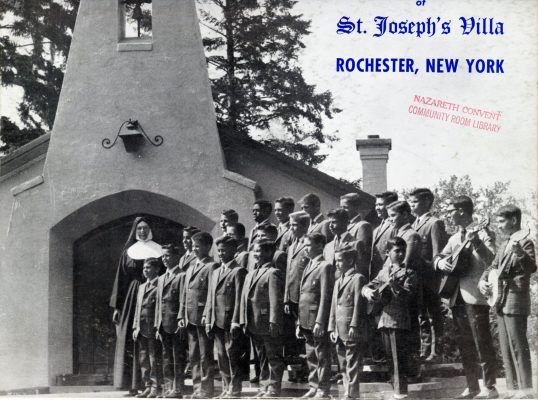 We are no longer St. Joseph's Villa in name, but we remain the same organization in spirit.
In the late 1930s, three downtown Rochester Catholic orphanages—St. Mary's Boys Home, St. Joseph's Orphan Asylum and St. Patrick's Girls Home—were closing their doors as a newly created foster care system took hold and hundreds of orphaned children were placed in private homes. But by 1940, there were six dozen or so boys and girls still awaiting placement, with heavy hearts and eyes full of worry about their futures. "We will take care of you," the Sisters of St. Joseph assured the frightened and vulnerable group, as the Diocese set about looking for a new home.
They knew they had found it when George H. Clark generously gave the Diocese 80 acres of beautiful Greece, New York, farmland. It took time to convert the working farm into a suitable home for children. But on a warm June day in 1942, the Sisters and children clutched their few belongings, joined hands and boarded city buses for an hour long trip to the quiet Dewey Avenue property and the five newly constructed English cottages they would share. Today, this peaceful setting is the main campus of Villa of Hope.
It was a humble start with a noble purpose. The Sisters took the children under their wings and into their hearts. They gave them guidance, positive values, a sense of belonging and the confidence to pursue their dreams. Their mission—to help children become happy, responsible, contributing members of the community—continues to guide our work every day.
Interested in some history?
Check out Villa of Hope's story of adaptive change and what it takes to weather the challenges in our work.