Annual Hope Fund. Gifts to our Annual Hope Fund are applied to areas of greatest need within our organization.
Behavioral Health Fund. Donations support our innovative and individualized mental health counseling and addiction reduction programs.
Education Fund. Gifts support our year-round specialized, state-accredited school offering education and therapeutic services to youth in grades 7-12.
Work Based Learning. Gifts support our program that exposes youth to career interest opportunities with job coaching and constructive feedback.
Care Coordination Fund. Gifts support and strengthen families by sending our skilled team of social workers directly into their homes for direct, individualized care.
Hope Place. Donations support adults, ages 18+ experiencing a mental health pre-crisis or crisis, by providing a home environment, certified peer support specialists, clothing, and food. We want all of our guests to feel at home.
Champion of Hope Society. The Champion of Hope Society helps fund work toward this Vision; and you are invited to join the Society today! Hope sees the invisible, feels the intangible, and achieves the impossible! We invite you to partner with us to change the very foundations of our community! In order to make change we must first commit to change. Our Champion of Hope Society is a commitment of $1,000 + for three years. Your gift will be given directly to the program that you wish to support.
Villa of Hope's Holiday Wishes Program
Villa of Hope's Holiday Wishes program makes sure that every young person served by the Villa gets holiday gifts. For some, these will be the only gifts they receive.
The success of our program relies on the goodwill and support of the local community each year at holiday time to fulfill the wish lists of our youth and families.
How can you be a part of something that does so much for families in our area?
Holiday Wishes 2023 will begin after Thanksgiving. We invite you to stop by any Starbucks or branch of The Summit Federal Credit Union and pick up a wish tag – each tag has a youth's three wishes!
All unwrapped gifts are dropped off at the Starbucks or The Summit Federal Credit Union where you picked up the tag.
Thank you for bringing Hope to the youth and families we work with every day!
If you are unable to make it to Starbucks or Summit Federal Credit Union, or you are not a fan of shopping, we have gift lists on Amazon; you can order from the comfort of your own computer! Visit https://tinyurl.com/Villagifts (Community programs) or https://tinyurl.com/HolidayWishesVilla (campus).
You can also easily make a secure online donation by clicking the button below.
Program Partners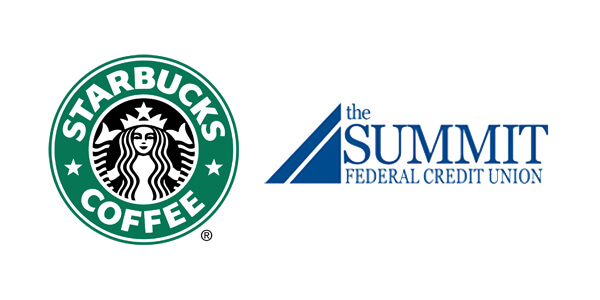 We would like to thank Starbucks and Summit Federal Credit Union for their generous support of our Holiday Wishes program, year after year. We simply could not do it without them!
Thank you!
Many thanks to everyone who helped make our 2022 Holiday Wishes Program a success. With your help, we were able to gather and distribute gifts to over 800 kids and families served by Villa of Hope. Let's do it again for our 2023 Holiday Wishes Program!
Contact Us
Any questions about our 2023 program, please contact Catherine Orlandini at 585-329-3281 or catherine.orlandini@villaofhope.org.
Help give back just by using your Amerks Debit Card!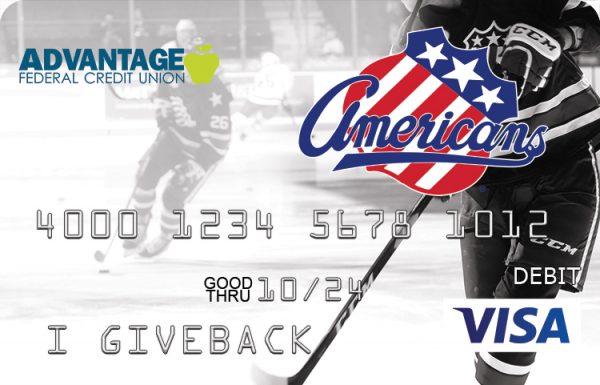 Help give back to Villa of Hope just by signing up for an Amerks Debit Card with Advantage FCU! Advantage FCU partnered with the Rochester Americans to provide benefits for cardholders. Every time a card is used, Advantage FCU donates a portion of its profits to Villa of Hope. In addition, to support us, cardholders receive extra benefits when attending Amerks games! The donations are reinvested in our essential programs and services. Visit Advantage FCU to learn more!
Gifts in Kind
Villa of Hope relies on generous donations from private donors and businesses to continue our work. A gift-in-kind is an item such as equipment, software or a product that a donor voluntarily transfers to the organization without charge or consideration. In order to make the best use of our limited storage space, limited availability of staff to handle these donations and to ensure that donated items are put to their best use, our policy for in-kind donations is as follows.
All donors are kindly asked to contact Catherine Orlandini at Villa of Hope, at 585-329-3281 before dropping off any items. Donations will not be accepted without prior notice.
Also, please note, that Villa of Hope is unable to accept used clothing, used computer equipment, console televisions, or stereo components.
Please download our "giving in kind" form, for a complete list of acceptable items, and donation form.
Thank you for considering Villa of Hope!
Villa of Hope is a 501(c)(3) public charity and donations are tax deductible to the extent the law allows. Thank you for your support!
Villa Donors
Villa of Hope relies on generous donations from private donors and businesses to continue our work. We gratefully acknowledge their generosity and thank them for their support.
Villa of Hope is a 501(c)(3) public charity and donations are tax deductible to the extent the law allows.
Volunteer
Make an impact...volunteer with Villa of Hope!
Every year numerous people volunteer their time in a variety of ways to serve and support our youth. Villa of Hope needs compassionate people to act as mentors, tutors and role models for youth.
If you are at least 18 years of age, and are interested in volunteering for any of our programs and services, contact a member of our HR team at HR@villaofhope.org or (585) 865-1550 x206. After a phone interview, and depending on the type of volunteer work you would like to do at the Villa, you will be asked to complete the necessary clearance documents, which will be emailed to you.
Please email or mail completed documents to:
HR@villaofhope.org
– or –
Villa of Hope
Attention: HR Team- Volunteering
3300 Dewey Avenue
Rochester, NY 14616
Corporate Volunteers
Volunteers from many of our corporate partners conduct volunteer days on our main campus, as well as at some of our group homes, in an effort in to help maintain, beautify, and refurbish our campus. Volunteers often work beside our youth living on campus. We work with you to arrange something meaningful for your employees and our youth.
Service Groups
Part of a college service organization, fraternity/sorority, a church group, alumni association or other civic group looking to do community service? Please contact us at HR@villaofhope.org and we can arrange a service project just for your group.
Special Events
Throughout the year, Villa of Hope hosts special events to support the important work done through our programs and services. Volunteers play a key role in making these events a success!
Volunteer opportunities for special events include:
Tournament of Hope
Portraits of Hope Gala
United Way Day of Caring
Thank you for making a difference!