Our Fundamental Guiding Principles
Sanctuary … a holistic approach to how we operate at Villa of Hope. The Sanctuary Model® is a blueprint for change which, at its core, promotes safety and recovery from adversity through the active creation of a trauma-responsive community.
Sanctuary Institute Certified
In 2017, Villa of Hope attained official Sanctuary® Certification from the Andrus Sanctuary Institute, after a journey that had begun in 2011.
Sanctuary has made a significant impact on our community, enhancing safety and creating a healing environment for our youth, their families and our staff.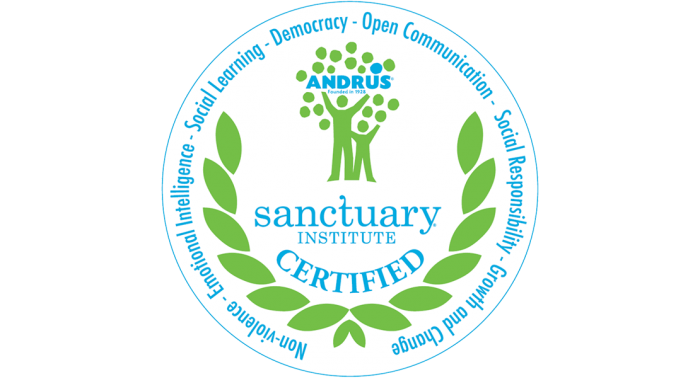 The Guiding Principles and Seven Commitments of Sanctuary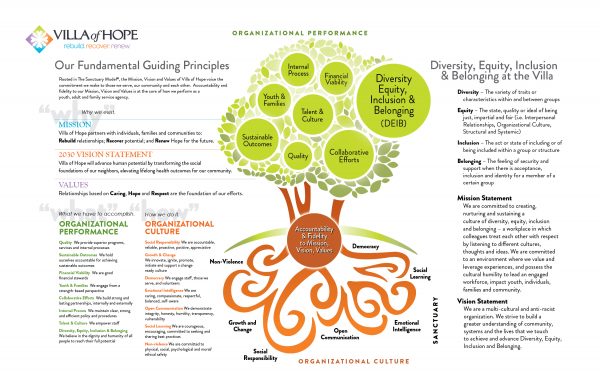 Definitions of Guiding Principles
How Sanctuary Shapes Our Organizational Performance
Quality
We provide superior programs, services and internal processes
Sustainable Outcomes
We hold ourselves accountable for achieving sustainable outcomes
Financial Viability
We are good financial stewards
Youth & Families
We engage from a strength based perspective
Collaborative Efforts
We build strong and lasting partnerships, internally and externally
Internal Process
We maintain clear, strong and efficient policy and procedures
Diversity, Equity, Inclusion and Belonging
We believe in the dignity and humanity of all people to reach their full potential
Seven Commitments of Sanctuary
Our Organizational Culture
Social Responsibility
We are accountable, reliable, proactive, positive, appreciative
Growth & Change
We innovate, ignite, promote, initiate and support a change ready culture
Democracy
We engage staff, youth, families & volunteers
Emotional Intelligence
We are caring, compassionate, respectful, balanced, self-aware
Open Communication
We demonstrate integrity, honesty, humility, transparency, vulnerability
Social Learning
We are courageous, encouraging, committed to seeking and sharing best practices
Non-Violence
We are committed to physical, social, psychological and moral/ethical safety