Villa of Hope receives award and is recognized for having one of America's Best Addiction Treatment Centers by Newsweek and Statista

As the summer draws to a close, Newsweek published a list of "America's Best Addiction Treatment Centers" for 2023, and we made the New York list! We are also the only center from the Rochester, NY area to receive the honor. Read the full story
The recognition comes during an important time as the need to support people with substance use disorders continues to increase, and Villa of Hope is partnering with Monroe County and New York State Office of Addiction Services and Supports (OASAS), stepping up its service to meet the demand.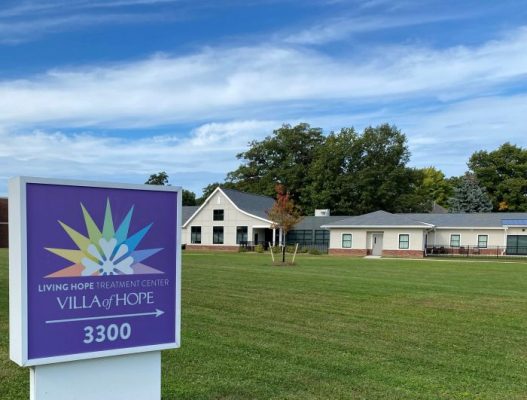 Our Gregory E. Polisseni Living Hope Treatment Center
Villa of Hope offers our medically supervised withdrawal and stabilization treatment home to the Rochester community. This center is the first community, agency-run inpatient center of its kind in Monroe County to treat adolescents and adults and offer specialized post-detox programs.
Opioid use is at an all-time high and the numbers of overdoses and deaths due to substance use disorder are growing daily. With the help of a new grant, the medically supervised withdrawal and stabilization treatment home will provide Villa of Hope another opportunity to change the lives of youth and adults in our community ages 16 and up.
Our new 24-hour facility offers short-term (5-7 days) medical inpatient treatment focused on physically stabilizing patients who are stopping the use of alcohol and/or other drugs. We also provide structured, around-the-clock treatment programs under the watchful care of physicians, nurse practitioners, psychiatrists and licensed therapists. After completing withdrawal and guided by compassionate professionals and trained peer support specialists, patients are able to continue treatment in other programs such as the Villa of Hope Outpatient Clinic and/or residential and group home programs.
About "the List"
America's Best Addiction Treatment Centers 2023 highlights the nation's top addiction treatment facilities based on peer recommendations, quality, and accreditations relative to the in-state competition. Facilities in 25 states with the highest number of addiction treatment centers, according to the Substance Abuse and Mental Health Services Administration (SAMHSA), were included in the survey. You can learn about the full methodology by visiting this link.
Getting Involved
For those interested in getting more involved with Villa of Hope and supporting individuals through addiction and recovery, here are a few ways:
Work with the Villa: Villa of Hope is currently hiring for a variety of positions including those at our integrated behavioral health clinic and our Living Hope Treatment Center. Visit our careers page to view job descriptions and apply: https://villaofhope.org/careers.
Spread Awareness: You can help stop addiction in your community by spreading information about it as well as services available in the community. Visit Villa of Hope's website to read educational content and follow up on social media: https://villaofhope.org.
Donate: Anyone can support this work by donating and support Villa of Hope's program. You can learn more and donate online at https://villaofhope.org/donate.