Villa of Hope recognizes Case Managers and Care Managers on National Case Management Week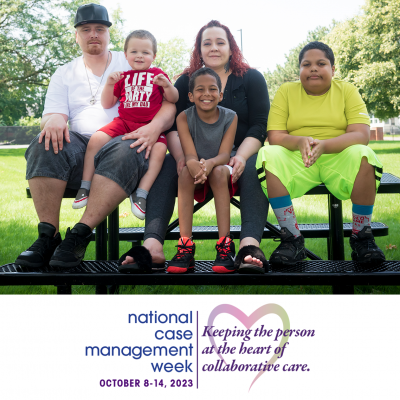 This week is National Case Management Week! This is a time to celebrate our Case Managers and Care Managers in our Adult Health Homes, Children's Health Homes, and Children's Care Coordination Programs.
Our Case Management team has made an incredible impact on the family in the photograph above. Parents, Megan and Daniel began their road to recovery with the Villa and along with their children who have received mental health services. Megan, states, "The Villa has been a remarkable place to help not just me, but also my children with therapy and medication management…to really be their best. The Villa has helped me to stay on the path to continued recovery. I will not go back. The staff, to me, represent courage, strength, and dedication." Megan's children were her motivators that led her toward recovery, along with the staff members who guided her toward a new way of life. "I used to live for the drug; now I live for my kids. And all I have to do is keep moving forward. That's what the Villa helps me do."
Read the full story: Our 2021 Annual ReportIn the past few years, the case management field has been challenged to step up and because of our amazing employees, we have kept our clients' needs at the center, when providing the necessary services to elevate an individual's health outcomes. Thank you to our staff members for the time and effort that you commit to our client's lives and the Villa! The Villa is about support; it's your personal journey; and we believe in you!