When kids in some of the Villa's residential services are ready to be discharged, they are often in a sort of limbo. They may be too old to want to return to live with relatives; but also are not quite ready to live on their own. Many have spent years in the foster care system. And sometimes they have nowhere to go at all.
This is where CAP comes in: the Villa's Community Apartment Program. CAP provides a safe, supervised, transitional space for youth who are finding their place in the world.
"It is such an awesome program, that does so much for our youth," says Jodi Walker, Director of Community Services. "CAP is very unique and one of the only programs in the area offering support and guidance to youth in foster care, ages 17-21.  It allows our young people to practice being independent while having the safety and support of our amazing Case Managers."
Don Griffin has been a Case Manager with CAP now for 18 years, and says, "The counties love us. They keep our apartments filled, and there is almost always a waiting list." CAP welcomes youth from Monroe, Onondaga, Steuben, Wayne, Genesee, and Erie counties. The program is funded through the Office of Children and Family Services, for young people in the foster care system. The Villa's program can serve up to 12 youth at a time, with some young people living together as roommates, and others living in single apartments.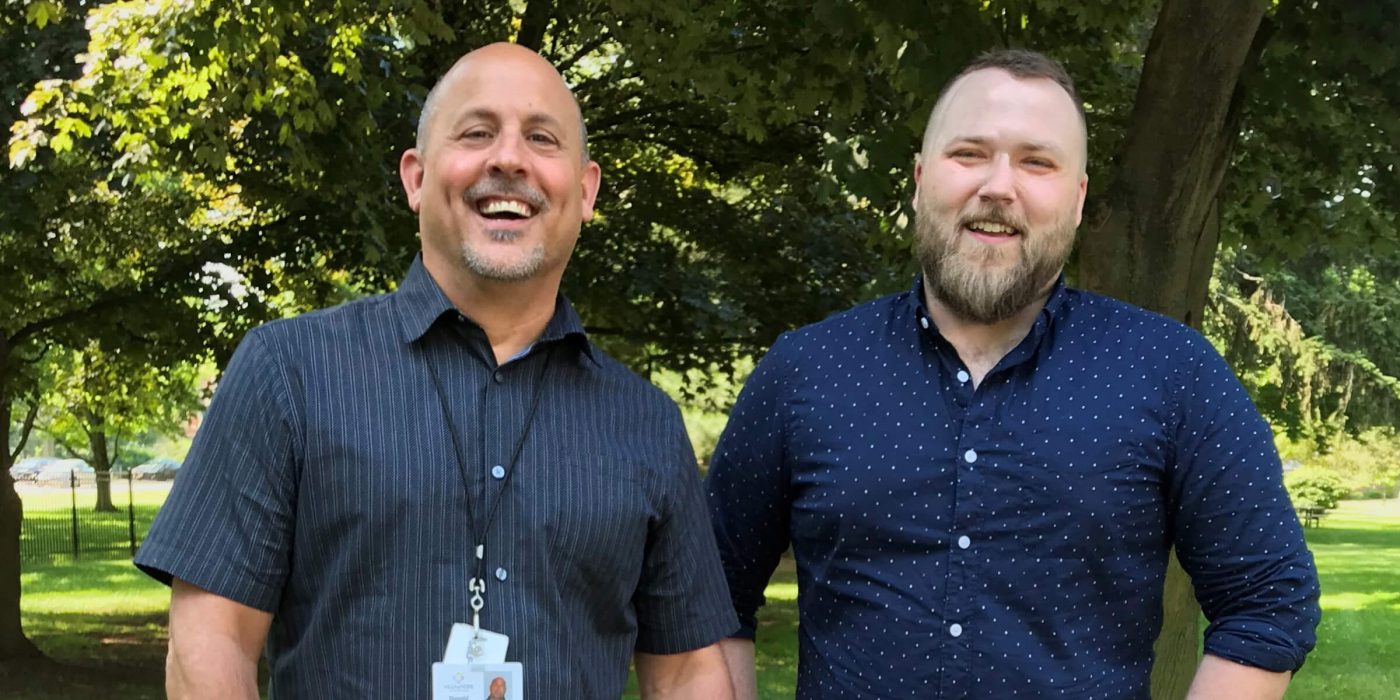 Don Griffin and Brett Bock, CAP Case Managers
Brett Bock is also a Case Manager with CAP and just celebrated one year on the job. "Kids can come into the program at 17, but they have to have finished high school," he says. "They age out of Foster Care at 21. So in between those years, we have a chance to really make a difference for them. We help with lots of independent living skills: cooking, shopping, budgeting, applying for jobs, transportation, accessing medical and mental health services. Once they get settled and begin their routine with us here, they realize they still have a lot left to learn."
Don and Brett also work alongside Sam Avant and Kim Butler, who are weekend and relief workers in the program.
Youth come to CAP from our campus residential programs, from our group homes, and from other agencies. In order to remain in the program, youth must follow some simple rules. They can have visitors, but no parties. They must adhere to safe behaviors. And they have to attend 30 hours per week of program activities of their choice, either work, college or trade school, volunteer work, or a combination of all three.
Don and Brett both smile about the rewards they find in the work they do. Brett likes the work environment, with the small staff team, and the small groups of youth. "When you can work one-on-one with youth, you can really see them learn, and see the progress. It is very rewarding, watching them move forward!" he says.
Don likes working with the older kids, striking out toward independence. "I like helping them get set up in life, and seeing them go so far," he says. He recounts working with a young man, 18 years ago when Don had first started his job with the Villa. He worked with the young man during his time in CAP, then helped him find his own apartment and a job when he left at the age of 21. He said that just recently, he ran into that same young man in the community, and he is now 37 years old! "He still had that same job," Don says, "and that same apartment I had helped him find all those years ago. He had stability. And he thanked me."
One job at a time, one apartment at a time, and one precious life at a time; this is the success of CAP!