Staff Spotlight – Bailey Selman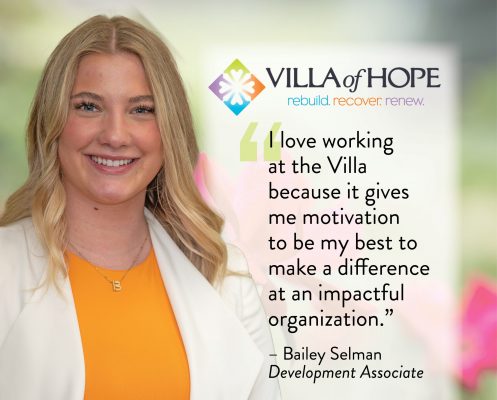 Bailey has had a very unique and profound experience as an employee with Villa of Hope. She began her Villa journey as an intern in January 2022. Then, as Bailey was finishing her undergraduate years at Nazareth College, she began working as a part-time employee, while improving her skills within Development and Marketing. Since graduating this past May, Bailey has moved into a full-time position and is our Development Associate. Her dedication to the organization is shown by her commitment to directly working with our donors and planning our fundraising events, along with our Major Gifts Officer, Catherine Orlandini.
The success stories of the individuals that we serve keep Bailey inspired to do the work that she does on a daily basis with passion and excitement. Through our programs and services, people come to us to find a new sense of hope and are seeking a new direction. As an organization, we have the resources to provide individuals with what they need to take their next step forward.
Bailey states, "I love working at the Villa because it gives me motivation to be my best to make a difference at an impactful organization." We thank you for your commitment to the Villa and the work that you do to support our community!
The Villa is about support; it's about your individual journey; and we believe in you.