Villa of Hope is the Recipient of Not for Profit Video of the Year – 2023 Rochester AMA Pinnacle Award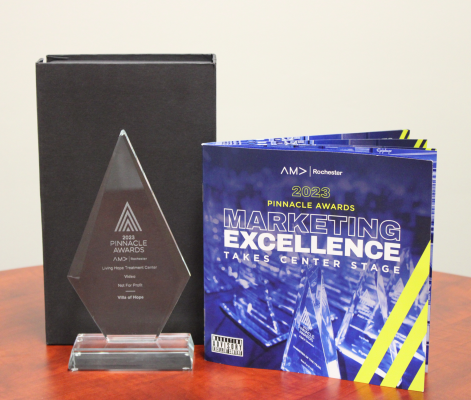 The Pinnacle Awards is an annual celebration of marketing excellence. For almost a decade, the American Marketing Association of Rochester has recognized local marketers for their program strategy, tactics, creative, and most importantly results!
We are excited to share that Villa of Hope is the recipient of the Rochester American Marketing Association 2023 Pinnacle Award for Not for Profit video of the year, featuring our Gregory E. Polisseni Living Hope Treatment Center! A special thank you to our Director of Marketing and Communications, Jean Grover, and Andy Penner from ChooseAndy Productions for capturing and editing this powerful video.
Lori Drescher shares her own personal story about how mental health and substance use disorder affected her son, Jonathan. Also, Cristian and Philippe share their experiences while receiving past treatment at the Villa and the importance of the Living Hope Treatment Center! Watch the Award Winning Video below!