Our Villa Heroes: Black History Month 2020
For the second year in a row, Black History Month made social media and internal communication headlines at the Villa; and for good reason. The campaign enjoyed enthusiastic staff participation, both in the nomination process, and in the sharing and celebration phase!
What is history? We like this definition:
The bodies of knowledge about the past produced by historians, together with everything that is involved in the production, communication of, and teaching about that knowledge.
Note that all histories are by historians; and this prompts the additional question, Who are our historians?
We have taken charge of this answer: our historians are those invested in the Villa, active in our programs, who see the successes and realities. Our historians are our coworkers and our youth and adults served. As the Villa approaches its 80th anniversary, we are confident we are getting this part right: to tell the true story of the Villa, and those who impact those we serve, every day.
We're Proud to Introduce You to This Year's Heroes, in Alphabetical Order by First Name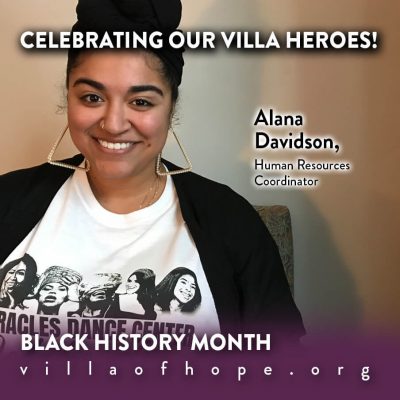 Meet Alana Davidson, nominated by a fellow staffer who says the following about her: "Alana has encouraged me to wear my hair pins and my hair scarves because both represent my culture. Slowly but surely she has made me more comfortable and brave with embracing my culture in my work environment."
Alana is approaching her 2-year anniversary with the Villa. She started off as the Front Office Manager with Facilities Operations, and now works as the Human Resources Coordinator for the Villa. In her role, she conducts all New Employee Orientation training.
"I was so excited and honored to be nominated for this recognition," she says. "My heart was so warm. Black History Month means celebrating the accomplishments of People of Color everyday, and our past, present and future. It helps us focus on where we have to go." She is especially complimentary to our President and CEO, Chris Gullo, for organizing the Villa's recent Anti-Racist Training, and says there has been a noticeable difference in staff interactions as a result.
As far as hobbies, Alana enjoys being an aunt to 9 nieces and nephews, and a dog-mom to Loki. She also recently started a jewelry business, online at http://jades-jewelry-box.com.
She's happy she has landed at the Villa, and says, "There's a feeling of togetherness here. Titles don't matter, and everybody helps everybody out. When people say 'Got your back' … they really do!"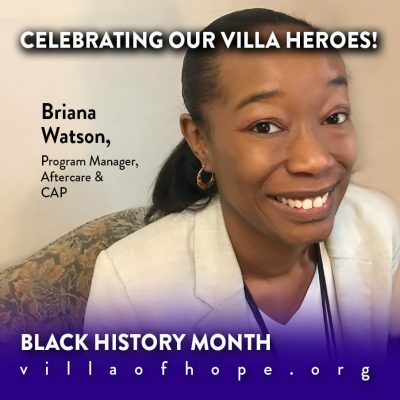 Meet Briana Watson, who started as a Skill Builder with the Villa 10 years ago, and recently returned as Program Manager for our Community Apartment Program (CAP), and the RTA Aftercare Program.
Briana has this to say about Black History Month: "It's about life, my story, my culture, my people, what we've gone through, and what we've accomplished." She expresses pride in being nominated by a coworker, but also nervousness. "I hope my contributions are important enough! I want to be significant enough to make an impact!"
Briana was born when her mother was a teen, and she is the oldest of 6 siblings. She was the first in her family to complete college, and now finds herself a "big sister" and role model to many, both younger family members, as well as those older than her.
She considers writing to be her special talent, and in her spare time, writes poetry and prose about spiritual topics. She also enjoys playing video games and hanging out with her son!
And with regard to her job: "The Villa not only brings hope to youth and families; I've also seen it restore hope to our staff," she says. "We're a family. We're part of something. This is the most comfortable job I have ever had."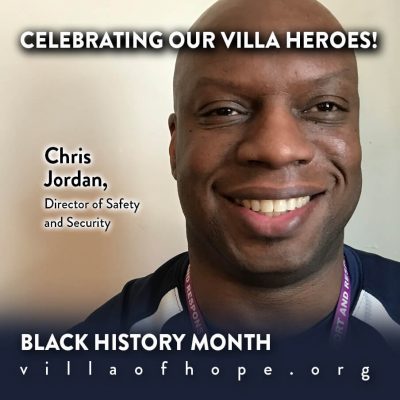 Meet Chris Jordan, who has been with the Villa for 25 years! He has been a Residential Counselor, Overnight Counselor, Supervisor, Support Team Manager, and now serves as the Villa's Director of Safety and Security. He was nominated as a Villa hero by a coworker who said, "Chris is a powerful African American male who is a great leader and an important role model for our kids."
Chris feels working with Villa kids is his "calling," and feels humbled by the honor. He says, "Black History Month brings to light the stuff we didn't learn about in school, and focuses on the great contributions of People of Color."
His contributions to the Villa are numerous, and over the years, he has valued the great kids and staff he has known. "No two days here are the same," he says, "and I love running into kids out in the community, who are now adults, who come up to me and tell me that I made a difference."
In his spare time, Chris is a father of two boys, ages 10 and 12, and keeps busy driving them to lacrosse, football, and basketball games, and even coaching their teams here and there. He also loves cooking on the grill. "My grill is never closed," he smiles.
Thank you, Chris, for your leadership!
Meet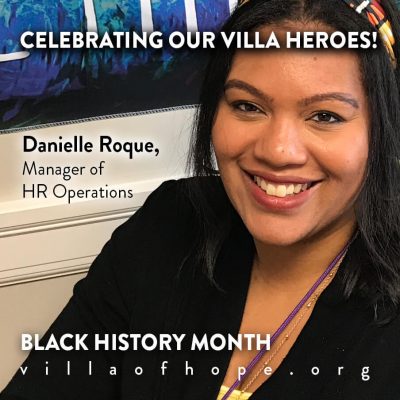 , Manager of HR Operations, nominated as a Villa hero by a co-worker. Danielle is honored to be nominated, and says, "We make our own histories, and can all leave our own mark on the world."
Black History Month is her favorite time of year, and Danielle makes herself slow down and do some studying of people she may not have heard of before. She has been posting bios of individuals on her own social media this month; for example, Ruby Bridges, the first black child to go to an integrated school.
Danielle has been with the Villa for 3 years, and loves her hard-working and diverse team in HR. She finds coming to work everyday rewarding! Married, with 2 biracial daughters, Danielle is raising them to be proud of their diverse heritage.
What does she like best about Villa of Hope? "We have the most amazing kids here," she says, "driven and resilient. I love when I get to interact with them. And though I don't work with them every hour of every day, I feel I can make an impact on them by hiring the best people to guide them."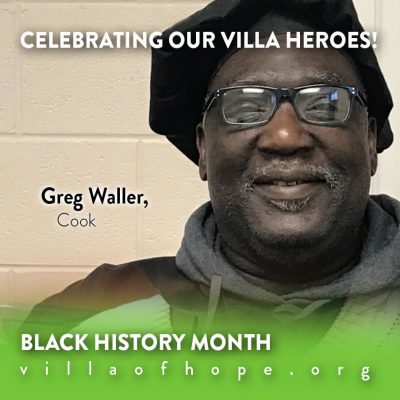 Meet Greg Waller, Villa of Hope Cook, nominated by a fellow staffmember who says the following: "Greg demonstrates an extraordinary commitment to the Villa community, and he has an amazing gift. Chef Greg always is willing to meet the dietary needs of other staff and still put his own 'flavor' on things. He brings his amazing culinary skills and southern hospitality to the Villa and he is always 'spicing things up!'"
Greg recently celebrated a year with the Villa, and feels blessed to be here, and blessed to be nominated for Black History Month recognition. He values this as an opportunity, as a professional chef, to be a role model to our youth, and their mentor.
"Sometimes our kids don't get great meals," he says, " and I'm thankful to have the chance to feed them. All from scratch . . . healthy, low sodium, and food from all different cultures." Some of his recent favorites: goulash, chicken parm, empanadas, fish tacos, and breaded porkchops!
"It's really lovely here at the Villa," Greg adds. "Loving, kind people who really show that they love the kids. And the #Sanctuary model is something I've taken home and made a part of my own life."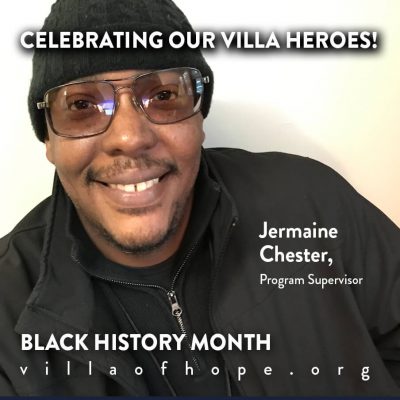 Meet Jermaine Chester, nominated by a Villa youth who says, "He is one of the best staff at the cottage; always cheerful, always positive!"
Jermaine was honored and surprised to be nominated as a "Villa Hero," and says Black History Month gives him a sense of pride. "It gives us all the sense that People of Color out in the world are doing great things."
With the Villa now for 10 years, Jermaine has worked at St. Agnes Cottage for the entire decade, first as a Residential Counselor, and now as Program Supervisor. He has seen many changes, such as Agnes, which used to be an all-male cottage, transitioning to co-ed a few years ago. Several years ago, he was awarded employee of the year by the NYS Coalition for Children's Behavioral Health.
He loves the Villa's work: making a difference, and leading kids in the right direction. "It's a cruel world out there," he says. "I'm happy to think I can help give kids the coping skills, and the awareness of thinking before they act, to make their lives ultimately a little easier for them."
Jermaine is a father of 4 daughters, ranging in age from 5 to 22. In his spare time, he likes to spend time with his kids and grandkids, shoot pool, and play video games.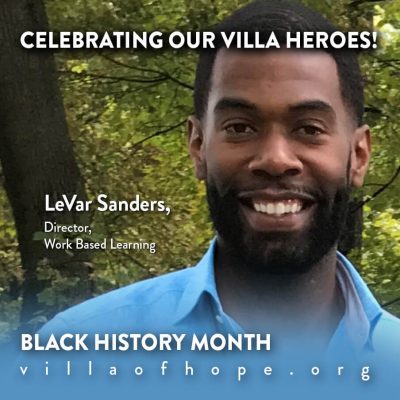 Meet LeVar Sanders, nominated as a Villa hero this year by residential youth! LeVar has been at the Villa for 13 years, working in several capacities with our youth, ranging from Teacher's Assistant, to Behavioral Support, Program Manager, and now Director of our Work Based Learning program.
He is honored to be a leader the Villa community looks up to, and to be nominated for this recognition! "Black History Month means so much to me," he says. "February is the month of love, pride and history, and this time of year brings a nationwide sense of acceptance and equality among the people who inspired this month-long celebration."
LeVar is married with one daughter, and met his wife when he was playing basketball for Penn State. "She was a cheerleader, we were both Psychology majors, and we were friends for several years," he says. "Then Cupid shot his bow … and that was it!" They have been married for 14 years.
His hobbies are weightlifting, running, being out in nature, and recently he has taken up skiing.
What does he love about the Villa? "Working with the youth and adults at the Villa is my calling," he states. "This is what I'd be doing whether or not I was being paid. I feel my work is purposeful, and when I run into a client out in the community 5 years after their discharge, who tells me I made a difference in their life … that is the best."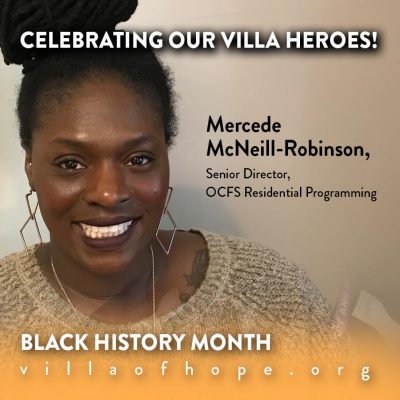 Meet Mercede McNeill-Robinson celebrating 5 years as a leader at the Villa. She began as the Assistant Program Manager for LIFE House, has had several promotions over the years, and is now Senior Director of OCFS Residential Programming.
"Black History Month is so important for our community," Mercede says. "People of Color and their contributions are so often forgotten; this is a way to be intentional about recognizing the unique advancements and offerings of People of Color, nationwide." And with regard to her nomination as a "Villa Hero," she says, "It's nice to be recognized! It's nice that people see value in me, as a Black woman, and the contributions I've made to the organization."
Mercede is married to "an amazing man," and is Mom to two boys, ages 10 years old and 10 months old. In her spare time, she's a soccer mom, a jiu jitsu instructor, and enjoys reading.
What does she love about the Villa? "I love that the Villa has made a focused effort to diversify its staffing; an effort to develop Black people, and to have Black people sit in leadership positions within the organization."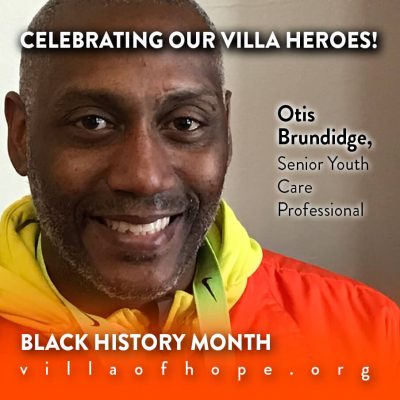 Meet Otis Brundidge, Villa of Hope Senior Youth Care Professional, nominated by a campus resident who says the following: "Otis is one of the best staff at our cottage, and on the whole campus!"
Otis has been with the Villa since 2014, starting that year as a Residential Counselor. He is now Lead Youth Care Professional in St. Agnes Cottage. He's a man who likes to stay humble, and says to be nominated as a Villa Hero "blows his mind."
"Black History Month is everything to me," he says. "It's respectable history, and makes us aware of how far we've come in our fight for equal rights."
Otis loves working at the Villa, and credits his mother as the one who taught him how to care for others. He also highly values his wife as his life counselor, the one who keeps him accountable! He has two stepchildren, ages 13 and 16, who he loves to spoil; and in his spare time, he enjoys football, basketball, and traveling.
What does he like best about Villa of Hope? "Everyday here is a new day," he says. "I get to do what I like best: helping kids get better."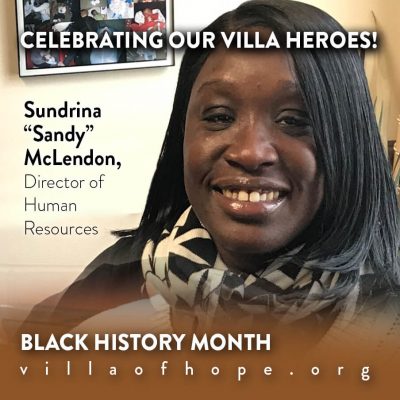 Meet Sandy McLendon, Director of Human Resources, nominated by several Villa staff! She feels excited and humbled by the nomination.
Originally from Cleveland, Sandy is married with one son. She is approaching her one year anniversary with the Villa, and loves her team. She feels the HR department did a lot of great work before she came, and she is focused on keeping up the momentum.
Sandy is appreciative that our society has dedicated a month for celebrating Black History. "We need lots of time to recognize all of our contributions. February is the shortest month – I wish it was longer – but I am grateful."
Sandy is enthusiastic about the meaningful work the Villa does, which makes an impact on lives everyday. She has this to say to the youth and adults we serve: "Follow your heart. Dreams do come true; and don't ever let anyone tell you that you 'can't'."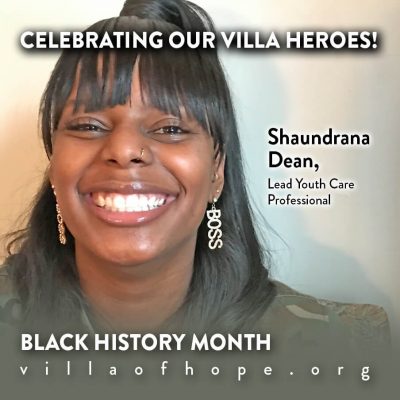 Meet Shaundrana Dean, nominated by a coworker who says of her: "She is aspiring to further her career and education and be a Mental Health Therapist to give back to our African American community."
Shaundrana, or "Nay" as she is affectionately called, says that February and Black History Month hold a lot of positivity for her. With unfortunately too many negative images of Black Americans in the media, it is refreshing to celebrate great people and great accomplishments; and to be nominated as a Villa hero makes her feel appreciated! "It's dope," she says.
She has been with the Villa a little over a year-and-a-half, starting as a Youth Care Professional, and recently being promoted to Lead Youth Care Professional in our Apex Cottage. "This job is teaching me patience," she says. "And now that I am a lead, I am trusting my instincts, making decisions faster, and feeling more comfortable with responsibility. What I love about my job is making an impact on kids' lives."
Shaundrana recently moved into her own apartment, and in her spare time, she loves engaging in "retail therapy," buying new items for her new place!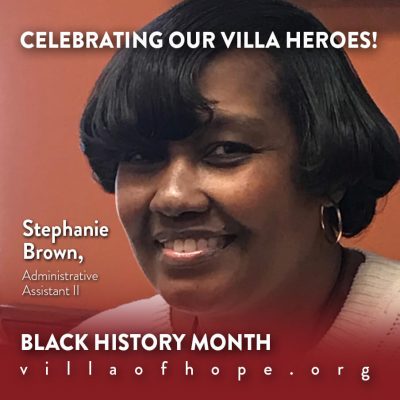 Meet Stephanie Brown, nominated by a fellow staffmember for her helpfulness, expertise, and personal commitment to the Villa! Stephanie indicates she was surprised, grateful and blessed to be nominated. "I love Black History Month," she says. "It's our time to celebrate African Americans in the world. It should be longer. It should be everyday!"
Stephanie has worked at the Villa for 13.5 years now, beginning as the Receptionist at Water Tower Park, then moving to Administrative Assistant for OCFS Residential, and now is in that capacity in our Finance Department. She's married, with one son, and her hobbies are spending mother/son time with him!
What does she love about the Villa? "I love the kids," she says. "I feel the Villa is a family, and people have your back." And her message to our kids and clients: "Stay strong and believe in yourself. No matter what your past is, it does not have to equal your future."