The Steven Center for Behavioral Health
We believe in you!

The Steven Center for Behavioral Health is our second Integrated Outpatient Clinic, now open on our Greece Campus. We provide treatment uniquely customized to the individual client by our licensed therapists, with evaluation and treatment for children, adolescents, adults, and families.
For mental health concerns, our goal is to assist patients and families with understanding and managing issues such as PTSD, ADHD, mood disorders, psychotic disorders, substance abuse, and disruptive disorders. We offer evaluation and treatment for children, individuals, and families, which include medication management, group therapy, and cognitive behavioral therapy. For substance use disorders, we provide family, individual, and group therapy, as well as Medication Assisted Therapy (MAT) and relapse prevention, in an outpatient setting.
This clinic is an extension of the continuum of care that we offer with all of our trauma-informed, trauma-responsive services:
Living Hope Treatment Center
Substance use residential rehab services (LIFE Residential Program, for ages up to 21 years old)
Villa of Hope School (our special education school serving up to 112 students, grades 7-12)
Care Coordination (community based services) for children and adults
Community Restoration and Workforce Development, for youth and adults
Contact us today
Via email: Villa.Intake@villaofhope.org or Behavioral.Health@villaofhope.org
Via phone: 585-581-HOPE or 585-328-0834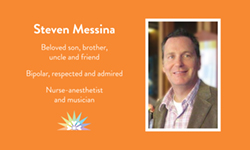 The Steven Center is named in honor of Steven Messina, who was a shining light and faced challenges, including addiction and mental health disorders. But Steven found that he was not unique and not alone. With the help of peers and professionals like those at The Steven Center for Behavioral Health, he and his family came to understand and manage the problems that addiction and mental health challenges can cause. The plaque in our Center, in his honor, reads:
Steven Messina
Beloved son, brother, uncle and friend
Bipolar, respected and admired
Nurse-anesthetist and musician
The Villa is about support; it's about your individual journey; and we believe in you.